Search Engine Optimization - SEO
What is SEO?
SEO stands for Search Engine Optimization.
This is a technology that is displayed at the top when searching with keywords set in advance, such as "Hawaii" + "Travel".
It is necessary to satisfy various factors, and top ranking with keywords with many competitions is quite a time-consuming and expensive task. On the other hand, optimizing with appropriate keywords has the benefit of saving huge advertising costs.
In the case of Hawaii, depending on the type of business, many companies may be targeting the same keyword. SEO is essential to make a difference.
Providing useful information is essential
Then what kind of page is displayed top?
In major modern search engines (Google and bing), it seems that the point of evaluation is how well they can provide the information that users need.
For this reason, there is a tendency for the sites that provide high quality information with high frequency to be displayed at the top.
Always try to provide valuable information to your users.
※ By the way, major Yahoo in Japan also uses Google search engine.
If it doesn't appear high in the search results and you can't find it, it's the same as it doesn't exist.
Optimize your entire website by certain keywords and each page to make sure it's ranked high.
If you want to optimize your homepage by applying SEO to your website, you usually set large keywords for the entire site and small and medium keywords for each page.
The goal of the entire site is "Hawaii" + "wedding" is often searched like keywords that are often conflicting.
If there are too many keywords, even if you apply SEO, the top ranking may be difficult.
In this case, it may be good to narrow the keywords a little like "Hawaii" + "House" + "Wedding".
The more niche your keywords are, the easier it will be to rank them.
However, keywords that are too niche are rarely searched, so it is desirable to set keywords that are moderately searched and do not conflict with other companies.
Small keywords for individual pages
On each page, we set keywords targeting one product and one service like "Hawaii" + "Kahara" + "wedding".
In addition, in the case of retail and food and drink businesses that need to invite customers, set keywords that combine geographical names (areas) and product (service) names like "Kakaako" + "Asai Bowl" and perform SEO.
The merit of applying SEO to each page
Of course we aim for big keywords in the whole site, but what is the benefit of applying SEO to each page?
Individual pages are subject to SEO under specific product or service names.
Pages that are properly SEOed will be topped when clients search for a particular product or service name, as search engines that have been crawling will load the content and index them appropriately. You
Since searching for a specific product or service name means that you are more interested in it, if there is appropriate information provided on the visited page, it will be more like a specific product or service name than a client who visited with a large keyword. Clients who visit with small keywords have the advantage of a higher closing rate.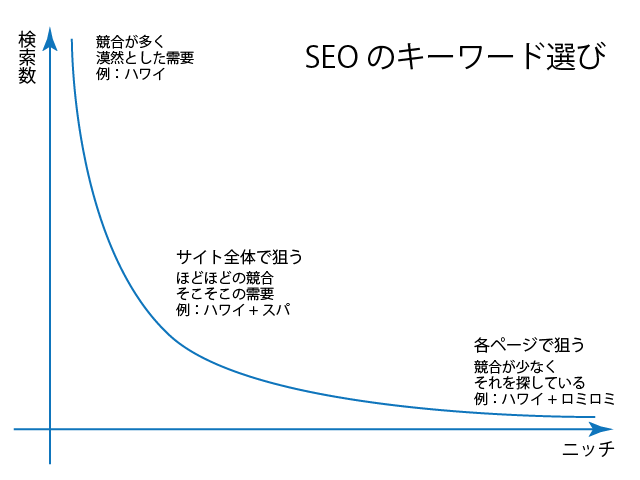 Monthly search volume of a keyword "Hawaii"
| | | |
| --- | --- | --- |
| Rank | Keyword | Monthly Search Volume |
| 1 | hawaii | 165,000 |
| 2 | hawaii sightseeing | 22,200 |
| 3 | hawaii hotel | 14,800 |
| 4 | hawaii tour | 14,800 |
| 5 | hawaii condominium | 6,600 |
| 6 | hawaii cheap | 6,600 |
| 7 | hawaii recommendation | 5,400 |
| 8 | hawaii honolulu | 3,600 |
| 9 | hawaii travel fee | 2,900 |
| 10 | hawaii hotel recommendations | 2,400 |
Google average monthly search volume statics as of December 2018
Area- Japan, Language – Japanese
The following conditions must be met as much as possible in order to have a proper SEO and an optimized website.
Some time has passed since the site was launched.
It is desirable that the domain name retention period be long.
(Long use = high reliability)
Many pages (large amount of information)
It is constantly updated (the latest information is provided).
The page title contains keywords.
Page description contains keywords
The headline of the page contains keywords
Keywords appear at the top of the page
The amount of text on the page is large enough to provide sufficient information
Don't pack too many keywords in one page
There is a keyword in the anchor text of the link to the page
Also use the ALT attribute of the image and the TITLE attribute of the link
Many links from external trusted sites are posted.
It supports SSL
Displayed properly on a smartphone
The image does not go out, the element is separated
Image size, compression is optimized
Style sheets and JavaScript are compressed
Sitemap has been sent to Google and Bing
All pages are registered in the search engine
Linked from SNS
Fast server response
If it is possible to satisfy these elements as much as possible and apply SEO, it will be possible to be top ranked in the search results.
However, satisfying these factors and applying SEO to the whole site and each page is quite a difficult task.
It takes time to acquire knowledge, so we recommend leaving it to a professional contractor.
You can find a reliable vendor in Hawaii.
Although SEO may produce results in a short period of time, usually it takes about six months for tuning.
In the case of Hawaii, there may be a lot of competition for certain products and services. In this case, you may need to spend more time tuning.